Rate this article and enter to win
That fashion blogger posted a shot of her gorgeous designer dress. The trainer you follow has been Snapchatting his perfect body during his trip to the Caribbean. And a friend from science class is getting way more likes on her posts. Suddenly you're feeling an unpleasant mix of jealousy and inadequacy. Sound familiar? In a recent Student Health 101 survey, over 35 percent of students said that seeing "perfected" images on social media makes them feel unhappy with the way they look. And for some, getting likes has become an obsession.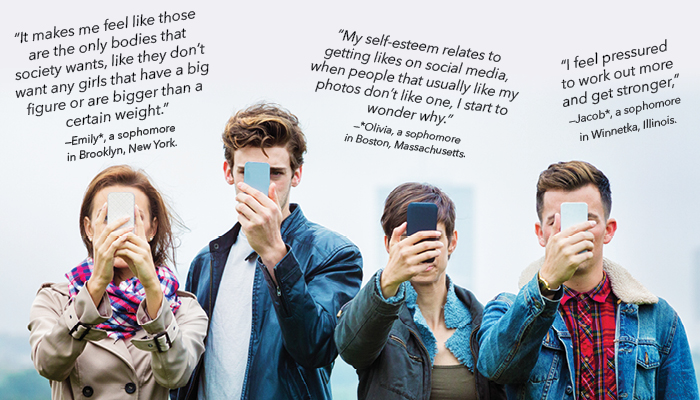 Social media satisfies our natural curiosity by giving us a window into other people's lives. But that window is warped—most people edit their feeds to show just one facet of their lives. Some users even have two accounts: one real ("rinsta") where they can be themselves, and one fake ("finsta") that's carefully filtered.
"We're constantly exposed to messages and images that leave us feeling as though we're falling short. Every image we see is so perfected, it's hard not to compare yourself to this unrealistic standard," says Dr. Renee Engeln, psychologist and body image researcher at Northwestern University in Evanston, Illinois. "Social media can leave us trapped in a mental contest with our friends regarding who has the 'best life' or the most beautiful selfies."
What do social media stars want us to see? Let's take a look at the common things we envy in their posts—and the truth behind them.
1. The six-pack abs
If you've ever stumbled upon the #FitFam or #Fitspo hashtags, you already know that Instagram is host to a massive diet and fitness community.
Behind the scenes:
Several years ago, #Thinspiration and #Thinspo were banned from Instagram because they were being used by communities that promote eating disorders. #Fitspo has slowly crept up in its place, supposedly promoting healthier standards (i.e., inspiring you to be "fit" instead of "thin"), but most of those motivational photos still promote extreme low body fat—just coupled with more muscle.
This fad may be affecting the way people exercise and eat. A 2012 survey of nearly 3,000 high school students showed that more than a third were using protein powder to promote muscle growth. That's significantly more than previous years' studies. In reality, building lean muscle takes a lot more than protein shakes. Decades of research show that a lot of it comes down to genetics (and exercise, of course). There are no magic powders or potions.
What's fitspo selling?
Lots of fitspo photos are touched up with photo-editing apps. What's more is that those same photos are often used to sell controversial products like teatoxes (which involve flushing out all the water from your system to make you feel temporarily lighter, but can dehydrate you and even harm your digestive system) or waist trainers (which squeeze your internal organs into different positions to supposedly shrink your waist). Hint: Both are really bad ideas.
"A lot of fitspo pictures glamorize and accentuate bodies which are insanely muscular and thin," says Dr. Ronald Palomares, assistant professor and director of the School Psychology Doctoral Program at Texas Woman's University in Denton. "The majority of fitspo pictures promote extreme workouts and calorie restriction. For an adolescent whose body is still developing, these images send the wrong message."
Working out can help you feel better about your body, but there are plenty of other meaningful benefits, such as preventing disease, reducing stress levels, boosting your endorphins, and decreasing depression. Here are all the right reasons to stay active. 
2. The designer wardrobe
You've been saving for two months to buy a new pair of jeans. The bloggers you follow appear to have a rotating collection of sneakers or handbags that are worth more than a car. What gives?
Behind the scenes:
Instagram is swarming with marketers looking to advertise their products, and the most common way to do that is through "influencers" (accounts with high followings of a specific target market, such as fashion lovers, teens, car enthusiasts, new moms, travelers, etc.).
"My job is to find the right influencers, models, and bloggers to promote different fashion brands on their social media accounts or websites," says Alexandra Carter, a public relations director in Toronto, Canada. "These people get free stuff from the brand—yes, even expensive stuff like shoes and jackets—but they're paying for it by turning their personal accounts into a form of advertisement. And they rarely tell their followers what they're doing."
In some cases, the influencer gets to keep the product but isn't paid, and in other cases, they'll be paid to give it their stamp of approval. Either way, the end goal is to make you want to buy something, and that's being carefully calculated in a brand's head office before you ever like that #OOTD. Kind of shady, right?
3. The flawless face
Selfies are so popular that the word made its way into the dictionary. You thought yours was looking pretty good—until you saw the latest post by ___insert celebrity name here___.
Behind the scenes:
First of all, it probably took quite a bit of editing, lighting, and professional makeup to get any celeb photo to look that way. Plus, celebrities often opt for plastic surgery (even Kylie Jenner admitted to lip fillers after the #lipchallenge disaster), so it's unrealistic to compare yourself with them.
It's been said before, but it bears repeating: It's easy to get caught up looking for praise based on how you look, but remember that there's way more to you. Superficial beauty eventually fades (even for Kardashians). Try this: If you're in the habit of sharing or tagging your friends in celebrity beauty shots or thinspo photos, make it a habit to start sharing different types of posts: a meaningful quote, a recipe you'd like to try, or even that cute French bulldog video.
"Do your best to stop talking about how other people look. It's not good for you, and it contributes to a culture where it seems like looks are all that matter," says Dr. Engeln. "Every time you find yourself having a conversation about what someone looks like, ask yourself what other interesting things you have to talk about and then change the conversation."
4. The bucket list trips
Some celebrities, bloggers, and models seem to be on a never-ending vacation, staying at the world's nicest hotels in exotic locales.
Behind the scenes:
Music artists and actors have packed schedules while they're performing or filming abroad, so even though their pictures might look leisurely, chances are that it's not exactly a vacation. As for travel bloggers…they get some pretty sweet "press trip" invites, meaning they'll be sponsored by a tourism board or hotel brand to share their experience (just like the product advertising mentioned above).
"I've been invited on press trips, and I have to admit, it's nice to travel without paying for it," says Naomi*, a food blogger in Brooklyn, New York, who prefers to remain anonymous. "But your itinerary is full from morning until night, and you're usually doing everything with a group of other guests. It's not relaxing, and you don't always like everyone you're spending time with. It's definitely not a real vacation. Of course, we have to make it look like we're having the time of our lives on social media—that's part of the deal."
Let Instagram's incredible travel photos inspire your own dream trip, even if that's a couple of years down the line after graduation. Make a detailed plan of where you'll go, which landmarks you want to see, and what you expect each activity to cost. A lot of people say that the best part of a trip is the anticipation!
5. The massive following
Following accounts with thousands (or millions) of followers can make you feel like you're not interesting enough or not worthy of attention.
Behind the scenes:
Celebrity social media accounts are well-oiled machines with a team to manage them. They generally involve a dedicated social media manager (seriously), a stylist team, and even a PR team to consult on portraying the right "brand."
Sure, some bloggers and Insta celebs have millions of followers. The truth is that these people generally invest lots of time and/or money into their accounts, spending hours trying to cheat the system with automated bots or even paying sketchy companies that promise to increase followers by the thousands. (Please don't test it out—there are better ways to spend your hard-earned cash.)
Spend a few minutes looking at the comments on any Instagram account with over a million followers. Chances are you'll see a lot of compliments, but some completely ridiculous or cruel comments, too. That's always the price for a large following, and many celebs admit that they're affected by the negative feedback.
Presenting a fake version of yourself to the world can also take a toll on your well-being. Take it from Essena O'Neill, an ex-Instagram model who eventually had enough of her "augmented" life and used her account (and following of 580,000) to share the truth about her social media usage.
"Without realizing, I've spent the majority of my teenage life being addicted to social media, social approval, social status and my physical appearance. Social media, especially how I used it, isn't real. It's a system based on social approval, likes, validation in views, success in followers. It's perfectly orchestrated, self-absorbed judgment."
—@essenaoneill, via Bored Panda.
The bright side of social media
Of course, even with its problems, social media is popular for a reason.
"Social media allows virtually anyone to create an online presence where they can publicly portray themselves, express themselves, and exchange mediated communication with other people," says Dr. Carl Pickhardt, a psychologist in Austin, Texas. "For adolescents it provides freedom to create an online identity, engage in online practices, and socially network with other people in the vast online world."
It even helps some people feel better. Over 20 percent of respondents in a Student Health 101 survey said they felt empowered from posting pictures of themselves.
"I don't base everything on getting 'likes,' but of course it feels good when people leave nice comments on my pictures," says Jason*, a junior in Las Vegas, Nevada.
"I only let close friends follow me, and I know they appreciate me beyond my looks," says Natasha*, a senior in Bloomsburg, Pennsylvania.
Be smart as you scroll with these social media tips
1. Get offline and outside
Make plans with friends that will force you to give your social feeds a break. "Don't spend so much time on social media that you neglect the more important offline, in-person, face-to-face communication and socializing," says Dr. Pickhardt.
2. Skip the photo shoot
"Tone down that instinct to narrate your life on social media," says Dr. Engeln. "Try the 'one and done' rule when you're out with friends.  Everyone can take one fun picture and post it to social media, then put your phones away and enjoy your time together."
3. Recognize what you're seeing (and not seeing)
Don't be jealous of someone else's seemingly perfect life. "Users filter out the bad and share just the good, just the positives," says Dr. Palomares. "Those filtered glimpses provide us with a brief, skewed picture of the life the individual wants you to see, not all the bumps, scrapes, and bruises."
4. Boost your self-esteem
Feel like you're not good enough? "Practice focusing on the positives, rather than the negatives, of you," says Dr. Jerry Weichman, a psychologist in Newport Beach, California. "Spend time each night writing a list of the positive specifics of your face, body, personality, talents. Be as specific as possible: I have nice eyes, I'm a good friend, I'm caring, etc. What matters most is how you see you."
5. Do something nice
"Ask yourself how you can use the talents you've been given to make the world a better place," says Dr. Engeln. "One of the best ways to feel better about yourself is to do something kind for someone else."
So hey, rather than counting your own likes, why not leave a few nice comments on someone else's posts? You might be doing yourself a favor.
*Names changed for privacy.
Article sources
Carl Pickhardt, PhD, author of Surviving (Your Child's) Adolescence and psychologist specializing in adolescent behaviors in Austin, Texas.
Jerry Weichman, PhD, clinical psychologist, Newport Beach, California.
Renee Engeln, PhD, psychologist and body image researcher at Northwestern University in Evanston, Illinois.
Ronald Palomares, PhD, assistant professor and director of the School Psychology Doctoral Program at Texas Woman's University in Denton, Texas.
Arden, N. K., & Spector, T. D. (1997). Genetic influences on muscle strength, lean body mass, and bone mineral density: A twin study. Journal of Bone and Mineral Research, 12(12), 2076‒2081.
Bearman, S. K., Martinez, E., Stice, E., & Presnell, K. The skinny on body dissatisfaction: a longitudinal study of adolescent girls and boys. Journal of Youth and Adolescence. 2006; 35:217–29. Retrieved from https://www.ncbi.nlm.nih.gov/pmc/articles/PMC1540456/
Bored Panda. (2015.) 18-year-old model edits her Instagram posts to reveal the truth behind the photos. Retrieved from https://www.boredpanda.com/truth-behind-instagram-social-media-not-real-life-essena-oneill/
Byely, L., Archibald, A. B., Graber, J., & Brooks-Gunn, J. (2000). A prospective study of familial and social influences on girls' body image and dieting. International Journal of Eating Disorders, 28(2), 155‒164. Retrieved from https://www.ncbi.nlm.nih.gov/pubmed/10897077
Eisenberg, M. E., Wall, M., & Neumark-Sztainer, D. (2012). Muscle-enhancing behaviors among adolescent girls and boys. Pediatrics, 130(6), 1019‒1026. Retrieved from https://pediatrics.aappublications.org/content/pediatrics/early/2012/11/14/peds.2012-0095.full.pdf
Gonzales, A., & Hancock, J. (2011). Mirror, mirror on my Facebook wall: effects of exposure to Facebook on self-esteem. Cyberpsychology, Behavior and Social Networking. 14, No. 1‒2. Retrieved from https://online.liebertpub.com/doi/abs/10.1089/cyber.2009.0411
Howard, T. (2015, November 4). Health officials warn about "waist training" as corsets see resurgence in popularity. Fox 59. Retrieved from https://fox59.com/2015/11/04/health-officials-warn-about-waist-training-as-corsets-see-resurgence-in-popularity/
Lenhart, A., Purcell, K., Smith, A., & Zickuhr, K. (2010). Social Media & Mobile Internet Use among Teens and Young Adults. Millennials. Pew internet & American life project. Retrieved from https://www.pewinternet.org/2015/04/09/teens-social-media-technology-2015/
Lin, L. Y., Sidani, J. E., Shensa, A., Radovic, A., et al. (2016). Association between social media use and depression among U.S. young adults. Depression and Anxiety, 33(4), 323‒331. Retrieved from https://www.ncbi.nlm.nih.gov/pubmed/26783723
Lieber, C. (2014, September 11). The dirty business of buying Instagram followers. Racked. Retrieved from https://www.racked.com/2014/9/11/7577585/buy-instagram-followers-bloggers
Mayo Clinic. (2016.) Exercise: 7 benefits of regular physical activity. Retrieved from https://www.mayoclinic.org/healthy-lifestyle/fitness/in-depth/exercise/art-20048389
McNeilly, C. (2016, August 12). Why Instagram's favorite diet—"teatoxing"—won't actually help you lose weight. Teen Vogue. Retrieved from https://www.teenvogue.com/story/tea-detox-teatox-bad-for-health-dangers
Student Health 101 survey, October 2016.